It's ME 247 New Design – On October 13th, 2021
It's ME 247 Online Banking is getting a fresh new look!  On October 13th the new website version will be live with the brand new navigation with some great features.
Make sure to look out for our updated mobile app that will be coming soon!
The first change is an updated login screen. The design has changed but your username, password, and security questions will not change.
If you have bookmarked this page (https://obc.itsme247.com/838/), it may work beginning 10/13/2021.  Make sure you visit Nizari PFCU's website – www.nizaricu.org and click the Login button, which will take you to the new It'sME247 Online Banking starting October 13th, 2021.  Also, you'll need to use Google Chrome, Microsoft Edge, etc browsers for full functionality and support.  Unfortunately, Internet Explorer will no longer be supported.
First Time Login
The first time you log in to online banking you will need to use the username and password provided by Nizari PFCU.
You will be prompted to set up your desired password, be sure to follow the password requirements.  Next, you will set up security questions and accept the online banking terms and agreements before accessing your online account.  If you need your user name and password reset, please call the credit union during regular business hours at 281-921-8500.
After you log in, you'll see the new home screen. The navigation has been updated and simplified to make it easier to use.  You still have all the old features that you are used to, plus some new ones.
When using Google Chrome to log in to your account, you may see a pop-up that says "Change your password. Chrome found the password you just used in a data breach. We recommend changing this password now." Please note: This does not mean your online banking account and password have been compromised but we do recommend changing your password to be safe. Learn more about this message.
Favorite Accounts:

With the new Online Banking design, you can organize and prioritize your accounts.  By setting accounts as your 'favorites' (by clicking the gear icon), you can choose what appears in front and center every time you log in.
The new It's Me 247 online banking makes managing bill pay easier than ever before!  Now all functions are available from every device. This means that:
Desktop users: You will see new features that used to be displayed only on mobile, and you'll need to click the new " Full Featured Bill Pay" button to access the iPay you're used to seeing.
Mobile users: You will see a new button that you can use to jump out to the full-featured iPay user interface if you wish. Or you can continue using the integrated options you were used to seeing before.
Below is a sample of what all users will now see when clicking "Pay my bills":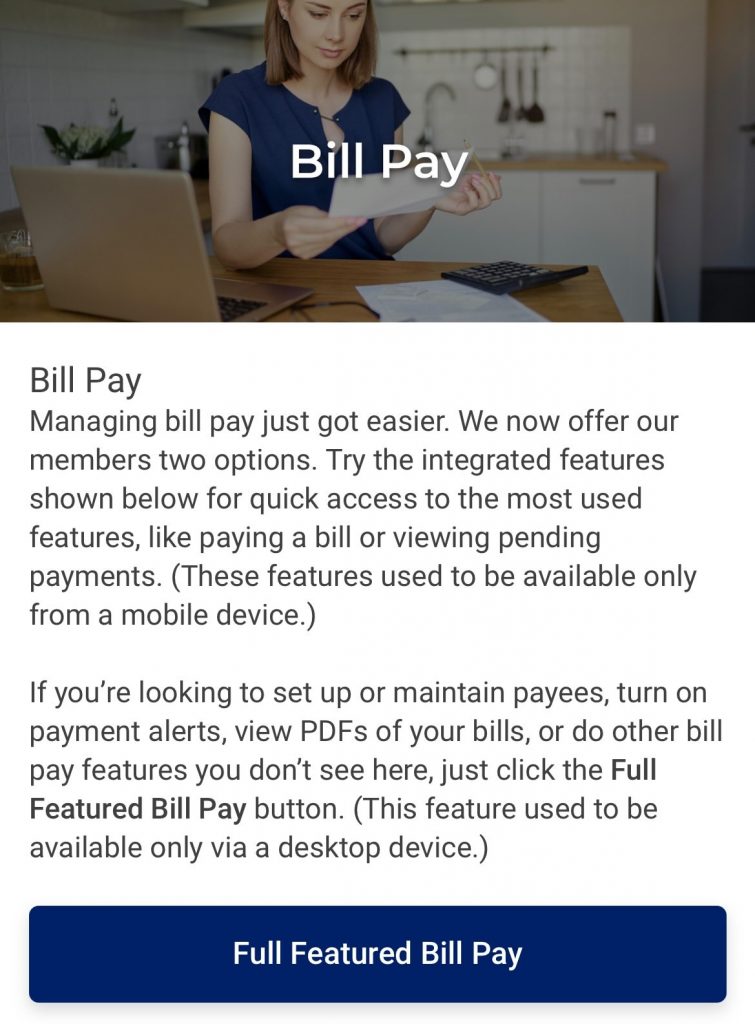 Let us know if this information was helpful and if you like our new Online Banking Navigation and Features.
If you have any questions or trouble accessing the new online banking, please reach out to us via phone at 281-921-8500 or email: Info@nizaricu.org